Understanding New Expectations for Preserving Website & Social Media Records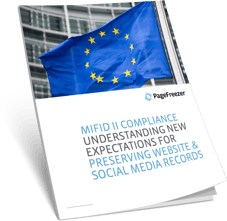 Established to regulate investment services, increase competition and enhance consumer protection, MiFID applies to all member states of the European Economic Area including banks, brokers, financial service institutions and advisers and more.
On 20 October 2011, The European Parliament and Council reached an agreement to develop MiFR, and MiFID II to further make markets more transparent and better protecting of investors. With MiFID II's implementation scheduled for January 2018, organizations will now required to have consistent means of capturing, retaining and reproducing records of all their activity.
With a whole range of new regulations, it's time to educate yourself on how MiFID II applies to your corporate website and social media content and get your ducks in a row for compliance. This whitepaper has been developed to serve as guidance to these new recordkeeping regulations for investment providers across Europe, with recommendations on how to comply with full confidence.